Coconut Essentials Moisturizing Body Butter
You will fall in love as soon as you use this body butter! Your legs
will thank you and everyone else will notice
your silky smooth body.
Shop Now
About Coconut Essentials
When I was expecting our first baby I couldn't find any safe chemical free skin or hair care products at the stores. So I created COCONUT BABY, a safe organic product for Mom and baby. We offer organic coconut oil based products for our family and yours. We are a family owned and operated company based in Michigan.
Client Reviews
I got this for my baby's cradle cap. It was cleared up in two days! Her hair stays soft, cradle cap stays away and she smells great! Also helps with dandruff and dry cracked feet. A little bit goes a long way so it will last forever.
Karyn Moore
I have sensitive skin and am fragrance sensitive; however, the coconut smell dissipates quickly. The oil stops itching immediately. Don't delay in purchasing.
Bear
Love this coconut oil for babies. I tried other products to help remove my baby's cradle cap and it kinda help out but this worked sooo much better! I used this along with a small teeth comb and it worked so amazing! Removed all of her cradle cap. Also works great whenever she has extra dry skin. Love it! Highly recommend!
Vanessa
I bought it for my 3month old daughter. Normally it was falling the first baby hair and I don't want to shave her to have more hair again and decided to use the coconut oil and here it's. Never hair fall and her hair is getting little thicker plus she has a lot of hair now. Now I'm using it for my 3yrs old daughter as well and it helps her a lot as well.
sarah Issak
Love this product! My newborn started losing his hair shortly after birth but used this every night on his head before bed and over just a couple months he has a full head of hair and no dry skin or cradle cap.
Alex bloom
FAQ (Frequently Asked Questions)
Do you refrigerate after opening container?

1st Answer Coconut Essentials – June 2017
You only need to refrigerate to regain solid texture from a liquid form. Best kept around room temperature just a few degrees below 75° F so easily applied.

2nd Answer Ju · November 2022
I do not! It is not necessary. AC keeps it nice to use but if you leave in a hot place it will be liquid (I do not like to use liquid) than I think it will be nice to refrigerate it.
Yes, the coconut oil is cold pressed and unrefined.
Are you supposed to wash this out when treating cradle cap?

1st Answer Coconut Essentials – June 2017
Yes. What I do is wet the baby's head a little, rub on the Coconut Baby and let soak while you wash the rest of the baby. Take a fine tooth soft comb and comb from the front of the head to the back, peeling back the dry skin. You could also use a soft brush and do circles over the dry skin. After you get some the dry skin loosened up, put in baby wash (we use Aveeno or Honest products) to wash out the oil. Depending on how bad the cradle cap is, it may take 3 applications or more. Hope this helps. I used it on all of my babies for their cradle cap. Works great!

2nd Answer Charlene - February 2017
I wouldn't wash it out. After rinsing the flakes away I would leave in as a conditioner. Also I think the longer it is on the better it works.
How do I use this to treat cradle cap?

1st Answer Coconut Essentials – June 2016
I would apply Coconut Baby on the scalp and gently massage the scalp with a baby brush or a soft cloth. It may take several applications but it works great.

2nd Answer Jaya Senan · March 2016
Wet the scalp with warm water and apply Coconut Baby generously. Massage the scalp with your fingertips. You can use your fingertips or a baby brush to loosen and remove the cradle cap. You'll notice a big improvement the first time you use it. It may take several applications before its all gone.

3rd Answer - A Perrish · March 2016
Wet babies head, lather on Coconut Baby, gently massage scalp with baby brush or comb. Repeat over several days. Leaves baby scalp soft and moisturized. Usually takes 3 to 5 treatments but you should see some improvement after first use. Great product. Used it on my daughter when she had it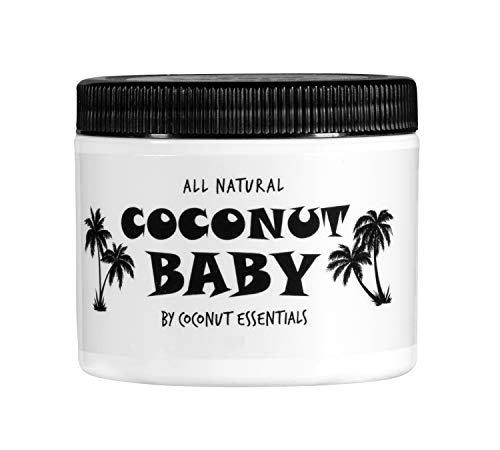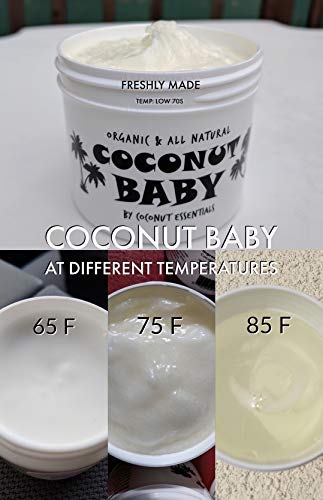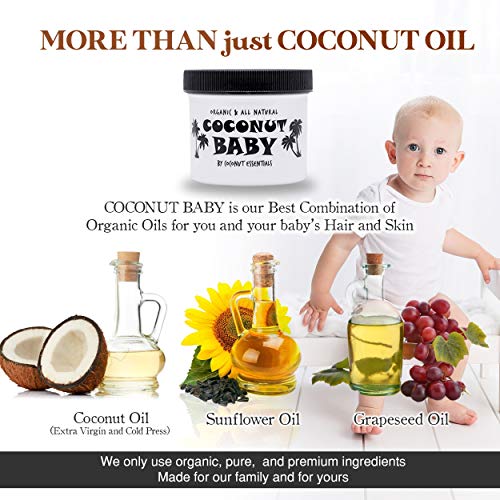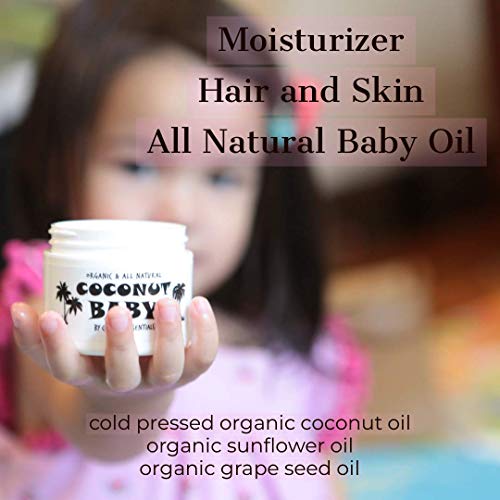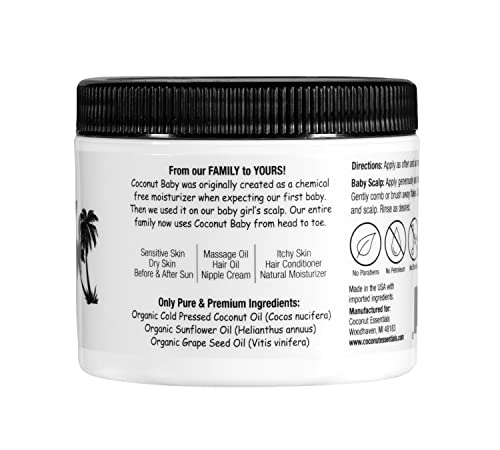 ---
Features:

Baby Coconut Oil for baby Hair and Skin- Loosen build up and moisturize baby scalp
Coconut Oil for Baby Hair & Skin (Cold Pressed & Virgin), Grape Seed Oil, Sunflower Oil - 100% Organic and Natural Hair & Skin Care
Coconut Oil for Baby Hair and Skin - Everyday Moisturizer for Babies and Adults. Helps protect skin naturally!
Baby Coconut oil for Babies Extra Sensitive skin! No chemicals
Coconut Baby oil - Soothes and helps prevent Babies skin from becoming red and irritated

Details:


The PERFECT SOLUTION for SENSITIVE SKIN because its ALL ORGANIC and IT WORKS!

COCONUT BABY has MULTIPLE USES for BABIES and ADULTS

* Replenishing Moisturizer to prevent dry and irritated skin

* Help condition and soothe babies scalp

* Soothes Rashes, Burns and Itchy Skin

* Coconut Baby can be applied during or after bath

* All natural and safe for everyone.

*** Coconut Oil is the main ingredient and DOES LIQUEFY at 76 degrees Fahrenheit.

MADE IN THE USA